---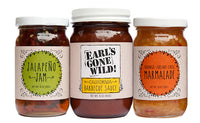 Sale
The Flavor Lover's 3-Pack includes a California Barbecue Sauce, a Jalapeño Jam, and an Orange/Fresno Chile Marmalade.
The Spice Lover's 3-Pack includes a Habanero Barbecue Sauce, a Habanero Jam, and a Lime/Serrano Marmalade.
There is an Earle!!
Earl's Gone Wild Sauces and Jams all started when Earle was a crew member at the Cerritos Center for the Performing Arts in Cerritos, CA. Earle would host barbecues on the loading dock for the large groups of hungry entertainers who would grace the stage. It required a lot of sauce, and over time he refined his BBQ sauce recipe, serving visiting artists like Gregory Hines, James Ingram, Roberta Flack, and their crews.
Earl's Gone Wild barbecue sauce combines just the right amount of sweetness and heat. Perfect for chicken, ribs, steaks or fish. Versatile enough for anything from grilled vegetables to barbecue chicken pizza, this is your sauce for an awesome California grilling experience.
Please take a look at our ingredients labels. Compare us to the rest and you will see that Earl's Gone Wild is your real food choice.

Our products are a true California taste experience!

Barbecue sauce size: 16oz jars
Barbecue sauce Ingredients: Tomato Puree (Water, Tomato Paste), Molasses, Brown Sugar, Honey, Apple Cider Vinegar, Onion, Apple Cider Concentrate, Salt, Garlic, Dried Red Chili Pepper, Spices, Black Pepper, White Pepper, Ground Ginger, Ground Celery Seed, Cayenne Pepper, Ground Mustard Seed