---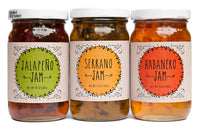 Sale
Award winning, best selling Habanero Jam, Jalapeño Jam, and Serrano Jam.
Give the gift of flavor this holiday season!
Ship to multiple addresses in one order and add personal messages to your recipients. Also, order by the case for unique and affordable office party gifts! See what our customers are saying!
Earl's Gone Wild pepper jams are inspired by an old California rancho recipe that has been around since the early 1700's. On the ranchos, there would be an abundance of fresh, ripe chiles to harvest in the fall. Most of the chile peppers would be used fresh, and some dried or smoked. On special occasions, the chiles would be made into jams using vinegar and sugar. The result is a tangy chili flavor with heat and sweetness. Many different chiles can be used, and the taste and heat of each is distinct and individual to each variety.

We have chosen three pepper varieties for our jams, fresh Jalapeños, Serranos, and Habaneros. These chiles are a staple of California cuisine. You can find them used in many ways, and we think jam is one of the best.
It all started out when Earl needed to have some gifts for the holiday's and made a few batches of Jalapeno jam. He kept getting more and more requests for jars. It was a hit!
Jalapeño Jam- Every jar of our Jalapeno Jam starts with fresh, green Jalapeño peppers and fresh diced red bell peppers. We remove the seeds and veins from the Jalapeños by hand. The seeds and veins contain the capsaicin oil that makes the pepper spicy. Removing the seeds and veins from the peppers allows us to get that wonderful Jalapeno flavor with less heat. This extra step takes time, but it really makes this jam unique. You will still see seeds in the jam. We do retain a small portion of the seeds to mix into the finished product.
This savory sweet jam is mild in heat. Many people who would not otherwise eat Jalapeños have enjoyed the distinct flavor of our mildest pepper jam. Traditionally served with cream cheese and crackers, it can also be enjoyed as a glaze for meats, or as a dipping sauce for appetizers like calamari, spring rolls, fried shrimp, and even the beloved chicken tender!
Distinct flavor, mild heat. Truly a traditional old California recipe, for that California flavor.
Serrano Jam- When you want a bit more heat than a Jalapeno, the Serrano pepper is the one for you. The Serrano is widely used in the southwest United States and Mexico for its great flavor and wonderful heat. It is a staple in salsas and sauces, or roasted whole as a condiment.
Every jar of Earl's Gone Wild Serrano Jam is made with fresh green Serrano peppers, and fresh diced green bell peppers. Because we are looking for a medium heat, we dice the entire Serrano pepper (minus the stems of course). This gives the jam a great kick of heat, along with the robust and tasty flavor of the Serrano pepper.
This jam is our medium heat pepper jam. As with all of our pepper jams you can serve this with cream cheese and crackers, or many different ways as a dipping sauce for your favorite fried appetizers like chicken wings, spring rolls, fish tacos, and even as a glaze for anything on your grill.
Habanero Jam (Our hottest pepper jam)- We understand the "chile head," and we have something for you! Earl's Gone Wild Habanero Jam.
The Habanero pepper is considered one of the hottest peppers on the globe. There are some newer, hotter varieties that have come on the scene in recent years, but none of them is as beloved as the Habanero. This pepper has remarkable heat! But along with the heat is a great flavor, with hints of apricot, citrus, and a floral aroma distinct to the Habanero pepper.
Earl's Gone Wild Habanero Jam begins with fresh, ripe, orange Habanero peppers that are chopped whole (minus the stems). These are cooked with fresh, diced, yellow bell peppers. Using the whole habanero makes for one of the most unique, tasty, heat filled jams you will find available on the market! This jam is a perfect choice for those grilled wings, great as a dipping sauce for your spring rolls, and amazing when spooned over a slice of cheesecake. Even grilled vegetables will be taken to a new level when glazed with Earls Gone Wild Habanero Jam.
We bring the heat, now you can eat!
Size: 10 oz jars
Ingredients:
Cane Sugar, Apple Cider Vinegar, Water, Bell Pepper, Jalapeno/Serrano/Habanero Pepper (depending on flavor choice), Pectin, Citric Acid