---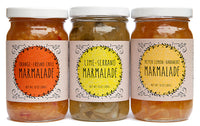 Sale
FOR A LIMITED TIME! 3-Packs only $14.99!!
Only $14.99 FLAT delivered to your doorstep with free shipping (U.S. only)! No catch! We want you to try our marmalades!
When you buy our pepper marmalades, you're buying over 100 years of traditional fresh fruit marmalade making expertise, combined with the fresh peppers you know and love.  A totally unique and delicious product!
There are no other products like this on the market, ANYWHERE!
How could we make a line of marmalades based on traditional methods with an Earl's Gone Wild twist?  Peppers of course! 
The packaging company we use to make our pepper marmalades started in 1891 as the first marmalade producer in the United States.  Often, while they were making our jams and sauces, they would be making their original, traditional marmalades.  The aroma was wonderful, and the marmalades were delicious.  This got us thinking, and we developed this line of unique, natural marmalades.
To stay in line with our sauces and jams, we created three marmalades in mild, medium, and spicy versions.  Serrano peppers for the medium flavor and Habanero peppers for the spicy flavor were natural choices.  The mild version was trickier, and sent us thinking of a new solution.  The Jalapeños we use in our mild pepper jam are green, and therefore didn't match with the color of the oranges we wanted to use.  We thought about red jalapeños, but eventually decided on Fresno chiles.  This turned out to be the perfect combination!
We hope you love our pepper infused marmalades as much as we do!
Size: 10 oz jars
Ingredients: Cane Sugar, Fresh Fruit, Water, Fresh Chiles, Pectin