---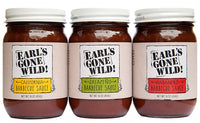 Sale
Handmade in small batches. Clean ingredients. Great taste!
Give the gift of flavor this holiday season!
Ship to multiple addresses in one order and add personal messages to your recipients. Also, order by the case for unique and affordable office party gifts! See what our customers are saying!
There is an Earle!!
Earl's Gone Wild California Barbecue Sauce began from a need to serve large groups of hungry entertainers who would grace the stage when Earle was a crew member at the Cerritos Center for the Performing Arts in Cerritos, California. On weekends, Earle would host barbecues on the loading dock. It required a lot of sauce, so week after week he refined his sauce recipe, serving the crews and visiting artists like James Ingram, Roberta Flack, Gregory Hines, and more.
The result is a versatile, tomato-based sauce that has just the right amount of heat and sweet. Subtle spices and a slightly sweet flavor make it perfect for chicken, ribs, roasts, steaks or fish. Grilled vegetables to barbecue chicken pizza, this is the sauce for a wonderful California grilling experience. We also offer our Jalapeño Barbecue Sauce, made with aromatic dried green jalapenos for that medium heat. And for the chile heads, we offer our Habanero Barbecue Sauce, made with dried, fiery red habaneros, for those who want more than just a little heat.
Designed primarily for traditional barbecue cooking, this condiment is also an exciting alternative to ketchup in any application—from burgers, hot dogs, and sandwiches to dipping sauce. 
Please read our ingredients label and compare us to the rest, and you will see that there is no comparison. Earl's Gone Wild is your real food choice.
Our sauce is a true California condiment experience!

THE TRUTH IS IN THE TONGS!
It started on a whim as many great things do, but soon built to a fever pitch.
Unheard of in laid-back California, Earl had, indeed, gone wild. Gathering the
finest ingredients the Golden State could offer, Earl wildly experimented...
he measured, brewed, concocted, simmered and, ultimately, savored the
finest barbecue sauce ever put t o grill. Whether your taste runs to beef,
chicken, pork, fish or vegetable, this is the stuff: "The truth is in the tongs!"
Size: 16oz jars
Ingredients: Tomato Puree (Water, Tomato Paste), Molasses, Brown Sugar, Honey, Apple Cider Vinegar, Onion, Apple Cider Concentrate, Salt, Garlic, Dried Red Chili Pepper, Spices, Black Pepper, White Pepper, Ground Ginger, Ground Celery Seed, Cayenne Pepper, Ground Mustard Seed